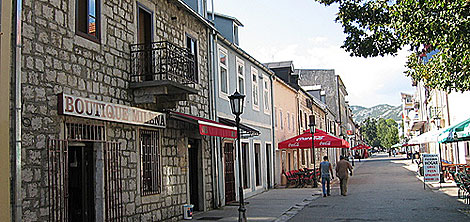 Montenegro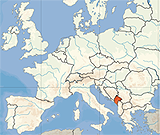 Montenegro is situated on the Balkan Peninsula and it has a coast on the Adriatic Sea. In spite of its small surface, it is full of natural beauty, rich in the cultural and historical sights what makes from Montenegro one of the most attractive tourist destination. The coast of Montenegro, thanks to the temperature above 18°C during more than 6 months yearly, belongs to the hottest and the sunniest tourist regions in Europe. Montenegro is a typical mountain country where the mountains above 1000 metres constitute 60.5% of the territory.
Basic information
| | |
| --- | --- |
| Official name: | The Republic of Montenegro (Crna Gora/ Montenegro) |
| Capital: | Podgorica |
| Official language: | Montenegrin |
| Area: | 14 026 km2 |
| Population: | 0.6 million |
| Currency: | Euro |
| Time zone: | GMT + 1 |
| Religion: | Orthodox Christians (65%) |
Three colours dominate in Montenegro: navy blue, emerald green and stone grey. These colours are wonderfully mixed together, creating a beautiful and harmonious colour landscape. Montenegro, thanks to its natural beauty, was proclaimed an ecological state.
Montenegro offers numerous beaches, bays, inlets and seacoasts you have always been dreaming of. Beauty of the southernmost world fjords, inlets of Bay of Kotor and beaches are surrounded by the limestone hills of Lovcen or Orjen. Mountains, the highest-lying hills of the Durmitor, Bjelasica or Visitor with hidden lakes, meadows and forests, with sharp peaks, varied flora and fauna and breathtaking rivers are parts of this wonderful region.
The news
May 15, 2008 - Montenegro introduced the so-called eco-tax for all foreign drivers. The fee shall be valid for the period of one year and it ranges from 10 € for cars up to 150 € for trucks and buses. The fee will be charged upon arrival.
February 21, 2008 - Montenegro started negotiations with the EU on a visa free regime.
January 15, 2008 - According to the Ministry of Tourism and Environment of Montenegro, the total number of Slovak visitors in 2007, who spent there 8.19 nights on average, was 10 254. Total revenue from tourism was 480 million. €, an increase by 39% in comparison with the previous year.